∙
4 years ago
Follow us on the hunt for the best food in Darwin
Let's get straight into the best restaurants that are serving up sensational dishes in Darwin. Don't get stuck roaming around for days as you try to figure out where and when to go. Let LocalSearch be your food tour guide as we take you through a week of visiting new and exciting restaurants for breakfast, lunch or dinner. So get your knives and forks polished as we hunt down prime places to have a feed. Whether you are a tourist or a local looking for the next big food joint, these restaurants will take food tasting to a whole new level.
Monday
Cure Mondayitis by lifting your spirits and heading to Nirvana Restaurant after work. Try the diverse foods in the restaurant that are based on Indian, Malaysian and Thai cooking. Both the Indian lamb korma and tandoori king prawns will have your mouth watering in no time, or you can get the lot with four different banquets to choose from depending on how many of your foodie friends are coming. We highly recommend the spicy salty quail as an entree, it is made with the chef's secret spices which give this golden fried bird a kick when it hits the palate.
Where: 800/6 Dashwood Crescent, Darwin NT 0800
Tuesday
Yes, it is official – this restaurant's name does live up to its reputation. Find the best types of food combinations in Darwin at this fine establishment. Open seven days a week, you can pop in at your own leisure; however, this is our Tuesday pick for its sensational menu that features fine dining. You must try a dish of scrumptious tapas or dig straight into their roasted pork belly, pickled cucumber salad, mash and plum sauce.
Where: 76 Mitchell Street, Darwin NT 0800
Wednesday 
Located in Skycity Darwin, Cove Restaurant is considered to be a 'tidal wave of flavour' for all of you foodies looking to be drowned is tasty goodness. Have your meal served up while you look over a lagoon that is relaxing and tranquil. Combing the flavours of the East with the West, you can see hints of Japanese infused with Australian contemporary cuisine. Be sure to make an advanced booking if you are taking your friends to try their group a la carte menu.
Where: Dragon Court Skycity Darwin Gilruth Avenue, The Gardens NT 0820
Thursday
Enjoy the passionate cooking of the Greeks at Manoli's Greek Taverna. Bringing to you the flavours of Greece, the head chef's vision is to create Mediterranean food that is simple, fast and fresh. Gather your friends and order seafood that simply cannot be eaten anywhere else. Choose from lamb cutlets, pork belly ribs, mousaka or souvlaki, and get your tastebuds dancing.
Where: 64 Smith Street, Darwin NT 0800
Friday
 We all love those four words – ALL YOU CAN EAT. Enjoy grazing for hours and take breathers in-between to prepare yourself for the next marathon of food dishes you will be selecting. With enough food to sustain a small tribe, you can choose from seafood, hot assortments and dessert – because no eating experience is complete without a dessert. Our top tip for you is to remember to get to the buffet early so you aren't being pushed out the door at closing time.
Where: 45 Stokes Hill Road Darwin, NT 0800
Saturday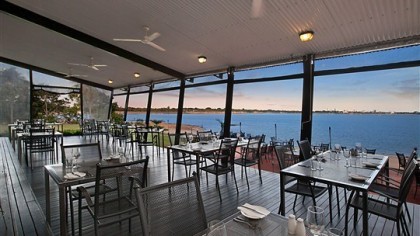 For those foodies who are game to try dishes that are completely different to the regular chicken schnitzel, have a look at the entree and main meal menu which features coconut crusted crocodile tail, rock lobster tail and fresh Territory fish of the day. We are in Darwin after all, so why not embrace the local produce – even if it means trying meats you never thought were for consuming. Whatever you choose at Pee Wee's, you can't possibly go wrong as it received the Golden Plate Award for Best Stand Alone Restaurant in 2013.
Where: Alec Fong Lim Drive, East Point NT 0820
Sunday
Two words – delicious food. Must we say anything more? Get brunch on a Sunday that will blow your mind. With the help of the chefs at this restaurant, you can enjoy a selection of options to cure that hangover from last night. Order the Bloody Beaut BLT with premium bacon, tomatoes, rocket and homemade aioli that is served with a side of shoestring fries. Don't forget to wash down your meal with a free soft drink if last night was an absolute grog-fest.
Where: 22 Mitchell Street , Darwin NT 0800
Do you know another restaurant that we have missed that must be mentioned? Drop us a line in the comments below with more foodie certified restaurants!