∙
4 years ago
Dive deep & explore life under the waves
Have you always wanted to witness the treasures of the ocean? If so, Airlie Beach is your perfect opportunity. Thriving with tropical sea life and underwater gems, this turquoise paradise is one of the best locations in Australia to take the plunge. Whether you're a first timer or an experienced diver, there are a number of professional and experienced
diving teams and schools
who can take you out to explore the many wonders of this simply beautiful location. From green turtles to reef sharks, native fish to mantarays, don't miss out on a once in a lifetime opportunity to get up close and personal with the marine life who call this stunning seabed home.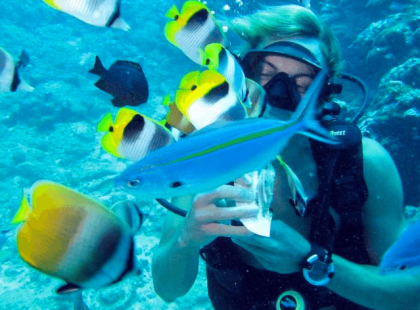 Looking for a friendly diving team? Reef Safari Diving understand the importance of feeling safe and secure while taking your first plunge into the big blue. With years of experience in the trade, this professional team of divers will ensure you have the most pleasurable and comfortable experience possible, while making memories which will stick with you forever. With a number of water experiences available to try, you will be spoilt for choice when it comes down to choosing which activity to enjoy.
First timer? No worries. Reef Safari Diving have a specialised trip for beginners, which guides you through the dive from the beginning to end – you can even hold your instructors hand if you're nervous! Depending on your comfort levels, you'll have the opportunity to plunge down to 12 metres, witnessing some of the most beautiful sea creatures to roam these reef waters. If the idea of diving freaks you out but you'd still love to experience life underneath the big blue sea, book onto one of their snorkel safaris which is the perfect day activity for families and friends to enjoy together.
Where: 3 Shingley Drive, Airlie Beach, QLD, 4802
You're bound to be exhausted after a day under the waves so head back to your hotel room and shower off the salt water, before heading out to enjoy a well deserved feast. Well-known for their exquisite melt-in-your-mouth dishes, Capers on the Esplanade is the perfect place to enjoy a post dive meal. If you're one for hunting out the best bargains you have come to the right place as this location runs regular dining deals on both drinks and food. Order yourself a well deserved drink and sit back in their chilled location as you take a browse over their extensive menu, which features both traditional and contemporary styled dishes.
If you're a mussel lover, be sure to head down to this popular joint on a Thursday night for mussel madness; here you can buy one pot of Kinkawooka mussels and get the second pot free! If this isn't a bargain, then what is? If mussels aren't so much your thing have no fear, as Capers on the Esplanade offer a number of other tasty and indulgent dishes for both meat lovers and vegetarians. If you're looking for a relaxing location after your dive, be sure to visit this friendly spot!
Where: 16 Airlie Esplanade, Airlie Beach, QLD, 4802
A comfortable bed will be imperative after a long day underwater, so book yourself a room at Peppers Airlie Beach. This premium location can be found in the heart of Airlie Beach and offers guests a variety of rooms which play host to the perfect nights sleep. Reserve a one bedroom spa apartment for a stylish stay; this room comes fully equipped with a balcony, shower and spa bath, room service and complimentary wifi as well as many more premium facilities.
If the ocean hasn't knackered you out, slip on your swimmers and take a plunge in the stunning infinity pool within the resort. After your swim, order a classic cocktail from the bar and lounge in the sun, overlooking the gorgeous ocean views this luxurious location has to offer. If your muscles are feeling tired from your dive, book into the Endota Spa and get a professional masseuse to see over your aches and pains.
Where: Mount Whitsunday Drive, Airlie Beach, QLD, 4802
Have you dived Airlie before? What did you see and where was your favourite place? Let us know below!