∙
4 years ago
Taste the difference on the Fraser Coast...
Are you getting tired of the local restaurant down the road? Perhaps you're keen to shake things up and try somewhere new? If you're located on the Fraser Coast, you'll know only too well how spoilt you are, with fantastic restaurants here, there and everywhere. Regardless of whether you're a fan of traditional Thai dishes or prefer classic pub fare, there is a location for everyone to enjoy. Stop settling for your usual, and visit one of these fantastic 4 amazing Fraser Coast restaurants that will promise to satisfy your tastebuds. Gather the troops, jump in the car and spoil your stomach with a first-class meal!
So you're looking for the ultimate Fraser Coast restaurant? Well luckily for you, we have done our research and found the top 4 locations to visit. From spicy curries to wholesome pub grub, there is something for everyone on the Fraser Coast!
Located inside an old, nostalgic Maryborough building, if you're searching for the ultimate dining destination don't go past Alfresco On Wharf. Home to contemporary decor, fantastic service and delicious food, this Fraser Coast restaurant has it all. Showcasing an extensive menu that features a range of European cuisine, your tastebuds are sure to be satisfied if you dine at Alfresco On Wharf. Whether you're visiting for a light lunch or an evening meal, take a seat in this unique, alfresco dining space and prepare to be taken on a culinary adventure. From fresh and exotic dishes to sweet and indulgent desserts, there really is something for every palate at this incredible restaurant. If you're looking for the ultimate dining destination in Maryborough, be sure to visit this local gem.
Where: 116 Wharf St Maryborough QLD 4650
Established in 1998, visit Thai Diamond Thai Restaurant if you're searching for a delicious, spicy dish packed with flavour. Situated in Scarness, the experienced and dedicated chefs at this restaurant serve up some of the best Thai food on the Fraser Coast, using only the freshest of ingredients. Whether you're into your stir-fries, curries, rice dishes or noodles, you're bound to find something on the menu to satisfy your hunger. Offering BYO wine, choose to dine in at this lovely, welcoming location or takeaway to enjoy in the comfort of your own home. If you're looking for the ultimate Thai restaurant on the Fraser Coast, don't go past Thai Diamond Thai Restaurant.
Where: 353 Charlton Esplanade Herve QLD 4655
Hoolihans Irish Restaurant & Bar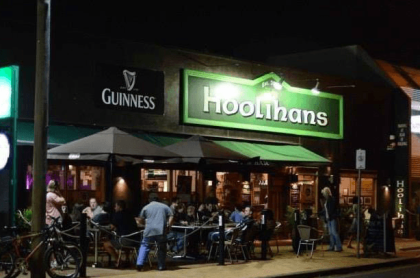 If you're one for traditional pub fare, be sure to visit Hoolihans Irish Restaurant and Bar. Located in the heart of Torquay, this lively location is home to everything you'd expect from a first-class Irish pub, and more! Whether you're visiting for the friendly atmosphere, delicious food or live music, you're bound to have a ball at Hoolihans Irish Restuarant and Bar. If your stomach is rumbling and you're in the mood for a feast, tuck into a plate of Dublin bangers and mash. This traditional Irish dish is served with vegetables and onion gravy, and will be sure to hit the spot. Sink it down with a pint of creamy Guinness – after all, it would be rude not to! Whatever you decide to enjoy, if you're after proper pub grub, be sure to visit this fantastic Fraser Coast restaurant and bar.
Where: 382 Esplanade Hervey Bay QLD 4655
For an elegant and romantic dining location, be sure to reserve a table at Gatakers Landing Restaurant. This fantastic Fraser Coast restaurant is home to some of the most delicious seafood cuisine in the area, and certainly not one to go past. Take a seat at this picture-perfect location and feast your eyes upon their superbly crafted menu, which features a selection of fine and indulgent food. Open for breakfast, lunch and dinner, the professional and attentive team at this desirable restaurant will be sure to make your experience one to remember, regardless of when you decide to dine. Whether you're planning a date, spoiling your mum or treating the family, be sure to visit this picturesque restaurant.
Where: Gatakers Ln Point Vernon QLD 4655
Have we missed out your favourite Fraser Coast restaurant? Let us know where you love to eat below!