∙
4 years ago
Enjoy a little piece of Thai culture right in Byron
If you have always been a fan of Thai massages, then book an appointment at these three places that will give you an authentic experience, leave you feeling relaxed and rested. Whether you're a local looking to unwind or you've travelled to the majestic shores of the east coast just to receive a renowned
Thai massage in Byron Bay
, these three places are a must when it comes to treating your body and reducing chronic pain. You don't need to take an 8 hour plane ride overseas just to experience traditional massage techniques, enjoy having your muscles manipulated in a way you never thought was possible right here in Byron Bay.
Thai Deep Pressure Massage
Thai Sabai Traditional Massage & Foot Spa
Regardless of how long the week has been, spoil yourself at the Thai Sabai Traditional Massage and Foot Spa. Located on the main street of Byron Bay, you can experience a unique massage that can't be found anywhere else in the area. The Thai deep pressure massage is considered to be very popular with individuals who suffer from tight muscles and joints that cause pain on a daily basis. This therapeutic treatment will allow you to recover from a muscle injury or get rid of knots in your back that are restricting physical movement. Due to the sunny weather in Byron Bay, many locals also book themselves in for an after sun massage if they have spent too long on the beach. Combining a traditional Thai massage with herb aroma gel, this treatment not only soothes the skin but also relieves the muscles from physical tension and pressure.
Where: 115 Jonson Street, Byron Bay NSW 2481
Thai Massage Session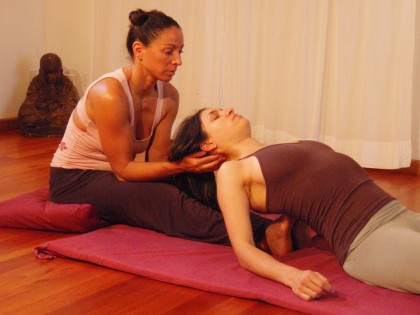 If you feel that you need a full body Thai massage to assist with posture and certain points of pain, visit the Byron Thai Massage School that is more than just a massage parlour. Depending on the type of Thai Massage you are scheduled to have, get ready for a series of stretches and positions that will release tension in the body as well as increase mobility. Surprisingly, not many individuals realise how beneficial Thai massages are as they can increase your flexibility as well as strengthen your core. Be sure to wear loose clothing that is comfortable so you can lie down on the mat and enjoy one of the best full body Thai massages you've ever had. This Thai massage school also offers courses and Thai massage training intensives. The Byron Thai Massage School is passionately operated by Valentina who is the director, as well as a teacher and therapist. Many seek advice and guidance from her when it comes to correct techniques and the art of performing massage. So if you're interested in seeing what makes a great massage, book in for a package of classes at the Byron Thai Massage School.
Where: 76 Sunrise Boulevard, Byron Bay NSW 2481
Energy Enlightenment
Byron Herbal Thai Massage has lovely staff that are well trained in the art of Thai massage. As you walk in, the amazing interior decor instantly creates a tranquil atmosphere where you can de-stress and find time to reflect quietly after a week of busy work. Not only do they offer traditional Thai massages, but you can choose from a variety of therapies which include oil massage, mixed massages and reflexology. If you have the time, book in for an energy alignment session which can last up to 2 hours if you feel that you need to completely unwind and pamper your body. Whether you need to have a specific area manipulated or are just looking for an overall massage, you will find what you're looking for at Byron Herbal Thai Massage. Located just above The Cardamon Pod, you can enjoy a relaxing massage before heading downstairs for something tasty to eat.
Where: Shop 10/7 Lawson Street Pier Arcade, Byron Bay NSW
Where do you love to get a Thai massage when you're in Byron Bay?