∙
4 years ago
Escape to Coffs Harbour & enjoy complete luxury
Looking to book a romantic getaway to really impress your other half? Whether you're planning to pop the question, earn some extra brownie points or simply want to spend some quality time with your loved one, Coffs Harbour is the ideal place to do so. With luscious sandy beaches, premium restaurants and cafes, not to mention a number of luxurious spots to stay, this location simply has it all when it comes down to romantic getaways. We have found the most premium resort, apartment and beach house within the area to suit any couple. So what are you waiting for? If you're looking for romance, you can find it here in Coffs Harbour.
With so much incredible accommodation in Coffs Harbour, it can be somewhat of a challenge to decide where to stay. We have done the hard work and found the three most elegant locations within the area that are perfect for  a romantic getaway with your loved one.
Keen for a romantic escape but can't bear to leave the kids behind? The fact is you don't have to! It's all in the name; Liapari Luxury Beach House is premium hideaway nestled away in the beautiful Sapphire Beach. This iconic location is home to magnificent views, stunning decor and a magnificent wet edge swimming pool; it doesn't get more glamorous than this. If you are looking for a spot that the whole family can enjoy, as well as a place that you and your lover can appreciate while the children entertain themselves, then Liapari Luxury Beach House is the ideal location.
So what makes this place so wonderful? Comfortably sleeping up to ten people, this beachfront house features a heated spa with the best views of Coffs Harbour, a luxurious living space homing covered balconies and panoramic views, gourmet kitchen and four gorgeous bedrooms and bathrooms. If this doesn't sound perfect then what does? Whether you enjoy this location with another family or on your own, you'll be sure to experience the romance of Coffs Harbour is you stay in this iconic beach house.
Where: 6 Beachfront Close, Sapphire Beach, NSW, 2450
Pacific Marina Luxury Apartments
Book a reservation at Pacific Marina Luxury Apartments if you're looking for the creme de la creme of accommodation. This magnificent Coffs Harbour location offers the option of either one, two or three bedroom apartments that all feature modern decor and appliances. A close walk to the local marina, shops, restaurants and beaches, Pacific Marina Luxury Apartments is the ideal escape for couples who enjoy the finer things in life. Home to two pools and beautifully landscaped gardens, this location oozes luxury like no other.
If you are searching for the ideal location in Coffs Harbour to wow your significant other, don't go past this simply stunning accommodation. Talk to the friendly staff at Pacific Marina Luxury Apartments to reserve your romantic getaway today.
Where: 22 Orlando Street, Coffs Harbour, NSW, 2450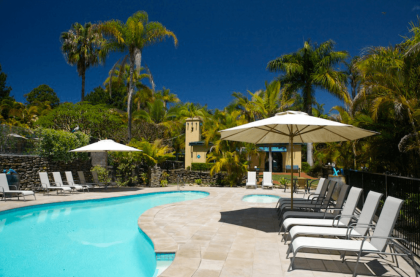 Korora Bay Village Resort offers premium apartments that are perfect for a lavish trip away with your loved one. Relax in stylish comfort and enjoy a number of premium resort facilities including an outdoor solar heated pool, a heated spa and a full sized tennis court with night lights; if you're an active couple, you're going to love this location.
So lets talk you through your room. The one bedroom apartments are perfect for a couples romantic trip away, showcasing modern decor, personal patio area, luscious furniture and fully-equipped kitchen. If you've been planning to cook a romantic meal for your loved one but never seem to get the time at home, the modern facilities in this spacious apartment make it the perfect place to do so. If you're looking for the perfect resort in Coffs Harbour for you and your partner, don't go past Korora Bay Village Resort.
Where: 64 James Small Drive, Korora, NSW, 2450
Where do you like to spoil your partner in Coffs Harbour? We'd love to know!